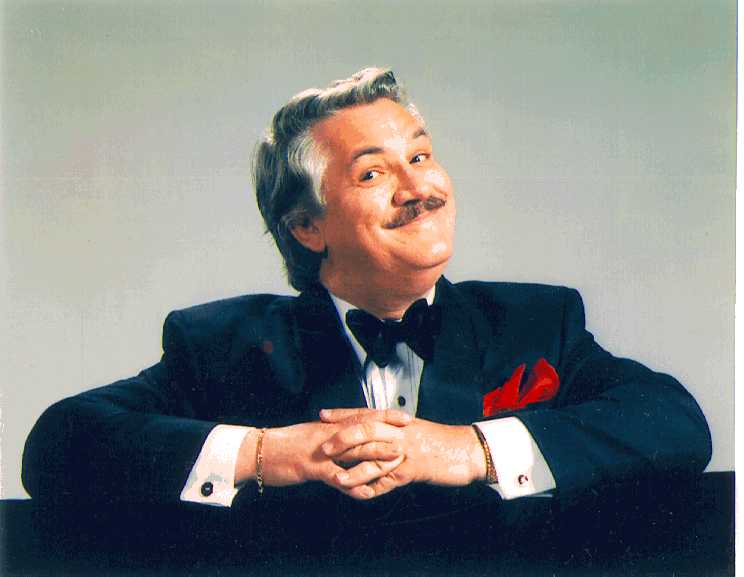 All about Charlie Prose:
When CHARLIE PROSE strides on stage, it is absolutely certain that for the next couple of hours everyone in his audience is going to feel like they know Charlie personally. Prose says that he feels so comfortable with his audience that his show is really "just one big happy party." For the hundreds of thousands of fans who have seen him in some of America's finest theatres, showrooms and supper clubs there is always one recurring comment "he's unforgettable".
Charlie has become an entertainment institution in both Atlantic City, NJ and Nevada - his annual Christmas Show was for many years at Bally's Park Place and two years at the Tropicana is in it's 19th consecutive year, this year at Trump Plaza. He holds the record for most performances (over 1,000) in Don's Celebrity Theatre at the Riverside Resort, Laughlin, NV.
Entertainment critic Ronnie Goodelman sums it up with the title of her last review of his show "Charlie Prose is 'Sheer Joy' ". He has been described as multi-talented, versatile as well as the entertainment world's answer to the Swiss army knife. Charlie prefers to call himself simply "an entertainer." His comedy recordings have sold millions of copies in the United States and Canada, and continuing strong sales are a major force in constantly developing new fans. He has produced two full-length videos, " An Evening With Charlie Prose" and "Love and Laughter With Charlie Prose", both of which have gone over the million dollar mark in sales, and last year were certified Platinum by the International Recording and Media Association.
Indeed, Prose has become an American entertainment treasure - blending his homespun comedy, energetic piano stylings and a romantic singing style into a career that has earned him an enormous following not only in the continental US, but throughout Canada, the Caribbean and Europe. One of the great hi-lights of his life was being invited to Scotland as a guest of Scottish television to perform and host the Scottish portion of the United Kingdoms first telethon for Children's Charities. The telethon broke a world record by raising 47 Million Dollars.
Charlie has a rather unique relationship with his fans, and believes in keeping in personal touch with people who have seen his show or who have enjoyed his recordings. "It's wonderful to hear from folks who enjoy what you do", says Prose, "And we answer every fan letter we receive. Another innovative approach has been our mailing list. It has grown to over 250,000 people. We let folks know about upcoming concerts in their area, as well as new recordings and products. It's really a lot of fun to be able to go to almost any part of the country and have someone come up to you and say 'Hi ! We received your schedule, thanks for thinking of us!'" His concert and club date schedule keeps him on the road over 200 days a year, appearing in the country's most prestigious theaters and casino hotels. His numerous charity appearances keep him going full steam ahead the rest of the time.
Born Charles Procopio and raised in the small coal mining community of Mt. Carmel, PA, Charlie's first exposure to music came early. "Like most Italian parents, Dad was always on the lookout for a bargain and one day he brought home a piano that he had bought for $15 from a bar owner down the block." Charlie, the youngest of four boys showed interest in music and at the age of five began lessons in classical piano that would last eight years and give him a solid foundation in music.
Charlie's father owned a neighborhood grocery store and everyone in the family of four boys and one girl helped out in the store. It was here in the grocery store that Charlie's next show business opportunity would appear. At thirteen he bought a used saxophone from the Nabisco cookie salesman. "The salesman would visit the store once a week and stock the Nabisco products. He was a former Big Band sax player and one week he brought in his horn to show me. When I saw that sax I just had to have it!"
A deal was struck and Charlie took the sax every day for the next two weeks to a room in the basement of the store. "We called it the Banana room, because it was insulated and was used to ripen truck loads of green bananas. This also made it soundproof, a good thing for the family and customers in the store above!" Within two weeks of the self-taught sax lessons Charlie formed his first band and the show business bug had bitten him for good.
Charlie attended Elizabethtown College and earned a Bachelor of Science degree in Marketing. While in college he played the Central Pennsylvania club circuit and often would be called upon to do a 'show'; a few jokes here and there mixed in with music and some parodies. " I love to hear people laugh." Comedy was the final piece to Charlie's show business puzzle. "I began really working at comedy in Wildwood, NJ in 1969. I did five shows a night and they all had to be different material. My humor is really culled from real life: marriage, kids, growing up; things everyone of every age can relate to." His comedy is a homespun feel good kind of comedy and critics have compared his style to a young Red Skelton and Danny Thomas.
"There are so many new things to try, there's a new challenge every day in show business. One of Charlie's dreams came to pass in 2001. He starred in the role of George Kimball in the comedy "Send Me No Flowers", that was performed at one of the East coast's premier dinner theatres and received rave reviews. He has since starred in "Never too Late" and "Last of the Red Hot Lovers"
The year 2000 brought the release of his 5th CD/cassette, "Lookin' At Life" and he continues to look for new and exciting avenues of personal and professional growth. "I would love to do some acting in motion pictures and release at least one new comedy or vocal album each year." When not performing Charlie can be found at his home in the pinelands outside of Atlantic City or on the nearest golf course.
In 2008 his published a children's book "Little Charlie and His Tu-Ta-Roo Band" with profits from the sale of this book to be donated to The Helping Hands Society, of Hazleton, Pa to build an addition on to the clinic that he has supported with a telethon for the past 26 years.
If you ask him what his favorite things to do are, Charlie will simply reply "I have a great passion for Italian food, I love to golf, but most of all, I love making people laugh and feel good about just being alive." Once you've seen him perform, you'll agree he sure knows how to do that !