There are currently 5 Charlie Prose CDs/Cassettes now available. Each and every one is completely different. We guarantee his comedy will make you forget your troubles and let you lose yourself in hours of laughter.
CDs $14.95

Cassettes were $9.95 now 1/2 price $4.95 or all 5 for $20.00

"Charlie Prose Live"
#1 Contents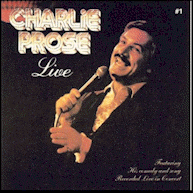 1.On The Road Again
2.Eight Dollars Back
3.Airports
4.Catholic Schools
5.I Fall
6.Shame and Scandal (West Indian folk song)
7.You're Nobody Till Somebody Loves You
8.Lady
9.Ignorants
10.Angel On The Tree
11.Rabbit In Montana
12.Italian Poppa
13.I Believe In Music - Medley

"This album is dedicated to America's Senior Citizens. It was recorded in the hope that it will bring to them as much joy and laughter as they have given to me. Always keep a smile on your face and laughter in your heart."
My Best Wishes,
Charlie Prose

"The Funny Side of Prose"
#2 Contents: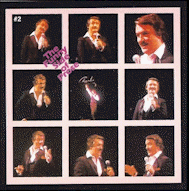 1. Prostituti - Your Time Is Up - This is God
2. Thatsa My Daughter? - Linoleum
3. Three for Five - Moms - The Parrot
4. Mrs Revere - Go Fly A Kite - For a Camel
5. Ladies In The Casino - More Fun For A Quarter
6. I've Lost Before - The Potato
7. Drunk In The Hall - Acute Angina - Burning Rubber
8.Don't Pee Pee In The Pool - Cats Are Sneaky
9.Blind Man Shopping - Who Shot My Paw
10.Rental Camel - Two Cowboys
11.Anybody Else Up There? - Murphy's Enemy
12.What Did He Say? - This Darn Nurse
13.Birth Control - Weedwacker - Box and Saucer
laugh-ter (laf'ter), described by many as life's greatest natural medicine. It relieves stress and can even eliminate many physical signs of illness. Laughter retards the aging process, gives one a feeling of well-being and tunes up the muscles from your nose to your toes. It is legal, non-fattening, and the government can't tax it!
THE FUNNY SIDE OF PROSE is about laughter and when it comes to making people laugh nobody does it better than CHARLIE. To see him in person is an unforgettable experience.
Dedicated to my daughters, Michelle & Alicia

"A Party With Charlie"

1.The A&P - Sell The Car - The Seagull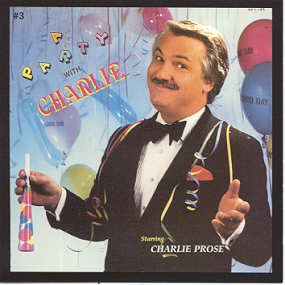 2.Potty Seat Cover - Laughter and Gas
3.Prostate Problems - A Bud Right - Cataract
4.I Lost My Toupee - God Turns On The Light
5.Intersections and Condominiums - State Farm
6.Infrequent - The Dentist - Drop The Accent
7.A Real Good Feel Good Song (R.Fagan/L. Alderman)
8.The Baby On The Bus - 40th Wedding Anniversary
9.The Lottery -The Balcony - Joys Of Parenthood
1 0.Good Tooth Fairy - To-Ta-Roo's - She Carried the Flag
11.Corduroy Pants - Bingo In Latin
12.The Get-Well Bag - My Fathers Advice
13.You Are My Miracle (R. Whittacker)

If you have ever attended a CHARLIE PROSE performance, you'll understand why the producers of this album have chosen to title it " A PARTY WITH CHARLIE"
Charlie has that rare abillity to take a room full of strangers and create a party atmosphere. He makes every one in his audience feel that they have been personally invited. His humortouches everyone no matter what their age, social status, or ethnic background
Get together with a few friends and family and play this Cassette or CD. You'll be amazed how much fun you can have with "A PARTY WITH CHARLIE" !

"Smiles"
#4 Contents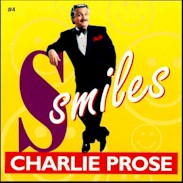 1.My Daughter The Nurse
2.Oat Bran
3.Exercise
4.Golf Game
5.Bad Habits
6.The Needle
7.The Hospital
8.Head Nurse
9.Paint My House
10.Blind Man
11.Mrs. Pott
12.Bronco Goldberg
13.The Chinaman
14.A Good Night Rap
15.I Have To Whisper
16.Garage Sale
17.$200 Sneakers
18.Barbie Doll
19.More About Tu-Ta-Roo's
20.Alter Boys
21.Mirrors On The Ceiling
22.The Everything Drawer
23.Dad's Grocery Store
24.Doin' chores
25.Talk Shows
26.Smile (C. Chaplin)
Charlie weaves a tapestry of smiles throughout his audience on this fourth CD/Cassette. His observational humor about everything from kids to old age relates to all of our lives, and has put audiences in stitches from coast to coast. Growing up is reflected in "Dad's Grocery Store," "The Everything Drawer" and "Doin' Chores." Drawing on his own experience as a father, Charlie's "Barbie Doll" routine has become a comedy classic. It's a sure bet you'll find a lot of the funny moments from your own life in "Smiles" - so sit back, listen, laugh, and enjoy!

"Lookin' At Life"

#5 Contents
Call Home
Election Year
The Medical Business
Viagra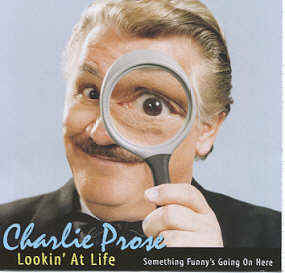 The Bible Salesman
A Nice House
I Can't Do Both
Write It Down
Disguise My Voice
Look In Her Purse
Very-Very Busy
A Happy Marriage
The Bicycle
Two Daughters
Grandchildren
1-800-Fess-up
Good Leads
Hugs & Kisses
Old Fashioned Kitchen
"Immigrant Eyes" (Guy Clark)
Chores
Find Myself
Drivers License
Parental Advice
The Clicker
The Vacuum Commode
Dumb Questions
Two Out of Three
Your Blinds are Open
Four to Six Years
total time: 49:07
There are few things in life that aren't hilariously funny when seen through the probing eye of America's favorite funnyman, Charlie Prose.
In this his 5th CD, Charlie puts a uniquely funny slant on life as only he can. From Dads and Daughters to Dumb guys and Darling kids, his family-style humor will have you in stitches from beginning to end.
Reorded live at the Civic Center, Coral Springs, FL, "Lookin' at Life" is destined to become a comedy classic.